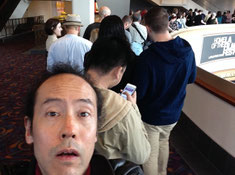 All these people already lined up? But it's Sunday morning?!

Great editing Master Class with clips from the next "Star Wars"! Wonderful tribute to Jonathan Demme with a clip from his next film with Meryl Streep!
And each time, I get asked by everyone sitting around me to hold their seats while they go to the loo?!