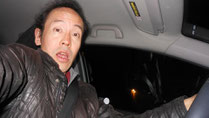 Oh, no! I get lucky finding street parking to get to an event, but haphazardly trigger off my own car alarm!? Can't shut off?! It gets louder and louder. I see a black SUV and shadows approaching. I take off and drive around the block, struggling to shut it off, imagining cops and vigilantes coming out with stick and guns. "No, don't shoot me… Please! No! I'm not carjacking this car…?!" 
After circling around the block twice, nearly going mad, I finally realize how I
can shut off the alarm… pfff….How I always manage to create extra trauma for myself, I have no idea.